On April 22nd, 2022, Cencosud held its Annual Shareholders Meeting, in which the directors of the Company were elected for the period 2022-2025.
Heike Paulmann Koepfer

Mrs. Paulmann is the Chairman of the Board of Directors since 2021 and has been a member since April 1999. She holds a BSc in Business Administration & Economics from the University of Chile and an MBA from Adolfo Ibáñez University.

Julio Moura

Mr. Moura has been part of our Board of Directors since September 2011. He is Director of Natura Cosméticos, Brinox, RAPS and President of the Arapyaú Institute. Before joining Cencosud, he was President of Masisa from 2002 to 2007, CEO of Amanco and Grupo Nueva from 1998 to 2007. Mr. Moura was Executive Vice President of Grupo Schindler, in Switzerland, from 1992 to 1997 and member of the Board of Directors of the World Business Council for Sustainable Development, in Geneva, from 2000 to 2010.
Mr. Moura holds a Master degree from M.I.T. Sloan School of Management and an Engineering Degree from the Swiss Federal Institute of Technology (ETH Zürich)

Jorge Pérez Alati

Mr. Pérez Alati has been a member of the Board of Directors since April 2019. He is the founding partner of the Perez Alati, Grondona, Benites & Arntsen Law Firm and currently leads the Mergers and Acquisitions area. Mr. Pérez Alati has a law degree from the Pontificia Universidad Católica de Argentina and an MSc in Law from Columbia University. Additionally, he has participated in the "Academy of American and International Law" of the Southwestern Legal Foundation in Dallas.

Felipe Larraín Bascuñán

Mr. Larraín has been a member of the Board of Directors since April 2020, and has been Minister of Finance twice, between 2010-2014 and 2018-2019. Between 2014 and 2018 he was Director of the Latin American Center for Economic and Social Policies of the Pontifical Catholic University of Chile (Clapes UC), where he is now a member of its Executive Committee. He is currently Professor at the Faculty of Economics and Administration of the Pontificia Universidad Católica de Chile. He was appointed in March 2021 as Director of Codelco. He was a visiting professor at Harvard University. He has been an advisor to numerous governments and a consultant to the United Nations, Banco Mundial, Banco Interamericano de Desarrollo and Banco Interamericano de Desarrollo. He has also served as an advisor and member of the board of directors of various companies in Chile, Latin America, the United States and Europe. He has experience in risk.

Manfred Paulmann Koepfer

Mr. Paulmann is a Commercial Engineer Universidad de Chile, with an MBA from École des Hautes Etudes Commerciales (HEC), Paris, and is currently the Chairman of the Board of Directors of Cencosud Shopping. He was part of the board of directors of Cencosud S.A. between 1993 and 2011. He worked for nine years at Cencosud Argentina, where he started the Easy project (he also did it in Chile), being his first General Manager. In 2008 he assumed the executive vice presidency of Cencosud, a position he held for two years and through which he headed important projects. In parallel, Mr. Paulmann has developed multiple ventures on his own account and with partners.

Mónica Contreras Esper

Mrs. Contreras is an economist from Universidad Externado, has an MBA from Universidad de los Andes, and is a graduate of the Executive Program CEO Management at Northwestern University's Kellogs School of Management. In addition, she has extensive national and international experience with a solid knowledge of the Colombian, Andean and Latin American market. In her professional career, she has been a member of the board of directors of Women In Connection, Invest In Bogotá, Corficolombiana and Farmatodo. Also, she was the chairwoman of Pepsico in Andean Territory (Colombia, Peru, Ecuador, Bolivia). In 2020, Mrs. Contreras jumps from mass consumption to the energy sector, presiding over the International Gas Transport Company (TGI).

Lieneke Schol Calle

Mrs. Schol has a Diploma in industrial engineer from the University of Lima and has a master's degree in Business Administration from Adolfo Ibáñez. She held the position of Minister of Production of Peru for almost three months until the resignation of President Pedro Pablo Kuczynski, forcing the entire cabinet to resign.
Before being in the public sector, she worked at IBM Peru and Microsoft, for which she is recognized for her extensive experience in the technological world. In addition, she was the director of OWIT Peru, an international organization of women in business, and has participated as a mentor in the start-up accelerator Endeavor Peru.
She defines herself as an expert in board of directors, business management, innovation and digital transformation; developing solutions and channels to identify and capture new markets.

Carlos Fernández Calatayud

Mr. Fernández has a Diploma in Mechanical Civil Engineer. Throughout his professional career he has specialized in information technology. He was director of Entel until 2020 and has worked at Telmex, AT&T and IBM.
Today he chairs the technology research company, Quantum Matrix SA, which is responsible for putting together developments that allow innovation in production processes of large industries. He is also vice president of Gesintel Compliance.

Ignacio Pérez Alarcón

Mr. Pérez Alarcón has a Diploma in Civil Industrial Engineer. With vast experience as a business advisor on financial and strategic issues. He was general manager of "Santander S.A. Corredores de Bolsa" and "Deutsche Securities Corredores de Bolsa SPA", as well as Chairman of "Merrill Lynch Corredores de Bolsa SPA".
He is currently part of the Enjoy, Masisa and Edelpa tables.
The management of Cencosud S.A. has more than 10 years of experience in the company.
Matías Videla

He is our CEO since December 2019. Mr. Videla joined the Company in 1997 as a Trainee and later was Head of Performance Control of Supermarkets Argentina. In 2003 he was appointed as Controller of the Company and then in 2009 he was promoted to General Manager of Supermercados Argentina. In 2018, he assumed as CEO of the Corporate Shopping Centers Division, carrying out the IPO process that deleveraged the Company. Later he took over as CFO. Mr. Videla holds a Bachelor's degree in Business Administration from the Universidad del Salvador (USAL), with an Executive MBA from IAE (Universidad Austral).

Inés Ostenrieder (*)

She is our CFO since May 2022. Ms. Ostenrieder joined the Company in 2018 and assumed the Management of Administration and Finance Chile in May 2020. Ms. Ostenrieder has a degree in Political Science from Monash University, Australia, and a Master in Applied Finance from Kaplan Business School, Australia, with an extensive career in Corporate and Commercial Banking, as well as Corporate Affairs for global FMCG companies, such as Philip Morris International. Her banking career was developed primarily at Australia & New Zealand Bank, one of the leading banks in Asia Pacific.

Ricardo Bennett

He is our current CEO of Department Stores, a position he assumed after a successful performance in the Corporate Business Management. He joined Cencosud in 2006 and is a Civil Industrial Engineer from the University of Chile, with an MBA from ESADE Business & Law School in Barcelona.

Sebastián Rivera

He is our Chief Legal and Communications Officer, a position he assumed in February 2019. Mr. Rivera joined the company in 2002 as an Advisor in legal matters for the Supermarkets, Home Improvement, Shopping Centers and Financial Services Business Units. In 2012, after being outside the company for three years, he was reinstated as Deputy Manager of Legal Affairs and Regional Compliance Officer. After that, he assumed as Manager of Legal Affairs in 2014. Mr. Rivera is a lawyer from the University of Chile and Master in Business Law from the Universidad Católica de Chile.

Eulogio Guzmán

Mr. Guzmán has been our Chief Human Resources Officer since March 2020. He joined the Company in October 2006 as Corporate Financial Retail Manager, a position he held until 2010. Later, he returned to Cencosud in 2014 as CEO of the Joint Financial retail venture in Chile. Mr. Guzmán holds a BSc in Business Administration & Economics from the Pontificia Universidad Católica de Chile with an extensive career in Mass Consumption, Retail Banking, Insurance Banking and Financial Retail companies.

Eduardo Peñailillo

Mr. Peñailillo has been Corporate Manager of Internal Audit since June 2021. He is a Commercial Engineer from Universidad del Biobío, has more than 23 years of professional experience in the audit and risk areas, initially as an external auditor, then as Audit Corporate Manager in one of the main urban transport companies in Chile, and later as Comptroller Manager in an important holding company in the area of shopping centers with presence in several Latin American countries. He has solid knowledge of risk issues, auditing, financial accounting issues, IFRS, among others.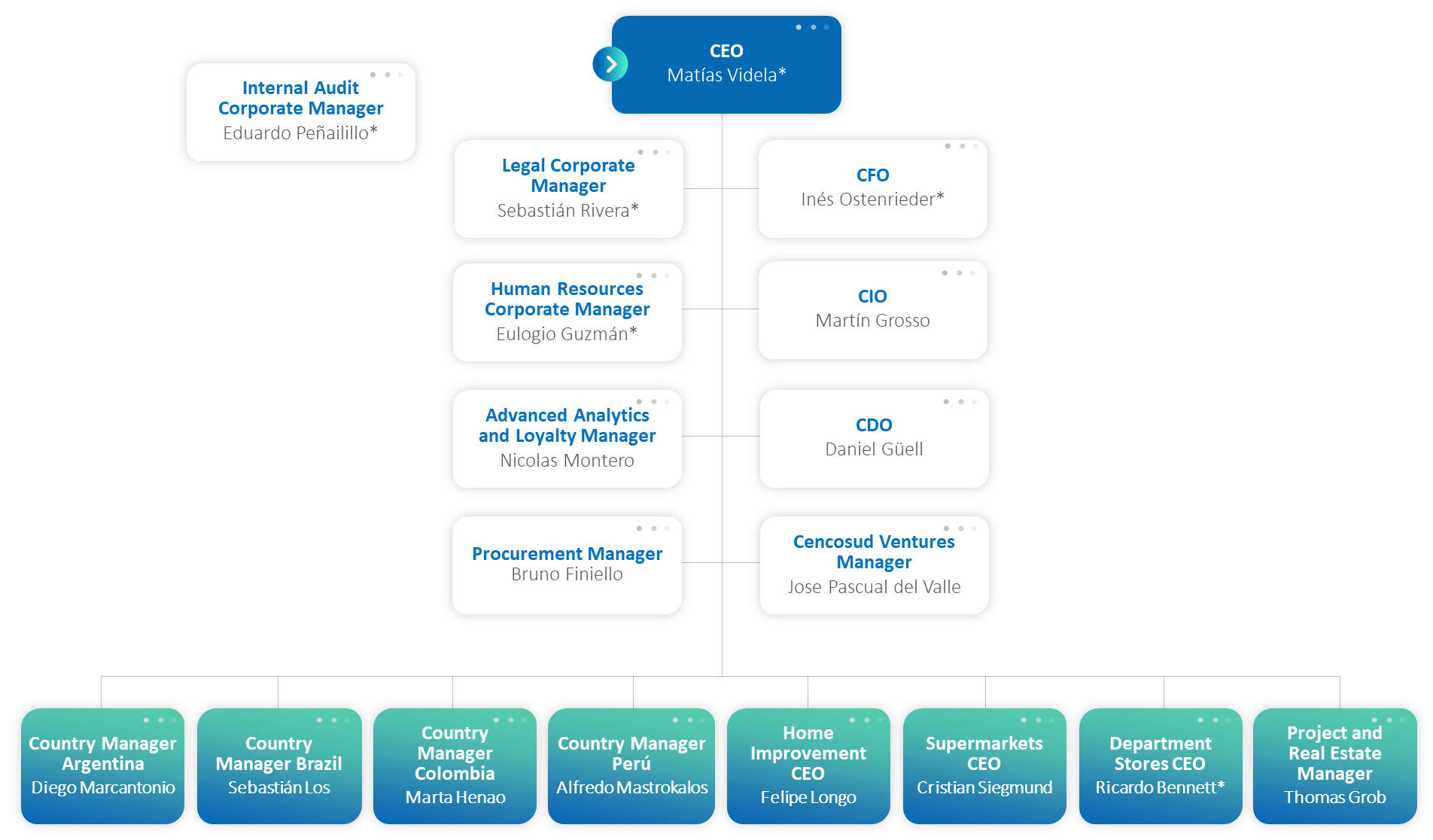 *Persons of the executive team registered in the CMF.
Did you find this information useful?
Subscribe to stay up to date!
We are one of the largest and most prestigious retail companies in Latin America. We have active operations in Argentina, Brazil, Chile, Peru and Colombia
Subscribe now!