From a small restaurant to a large company with close to 120,000 employees and operations in six countries -in addition to a commercial office in China-, its hallmark and commitment remain the same: take care of details and always offer the best experiences in stores, whether physical or digital.  
The Company has more than a thousand stores, in its different business areas and 67 Shopping Centers, a figure that will continue to grow. Cencosud S.A. is in full reinvention, accelerating its e-commerce strategy to offer customers a complete, efficient omnichannel proposal with the best delivery times in the market, building brands that are more connected to society, that relate transparently with consumers, and that are also inclusive and responsible in the face of current times. 
Customers are an essential part of the reason for being of Cencosud S.A, for which the Company advances to lead the experience of all consumers, expanding its offer and reinforcing all channels to consolidate itself with the best experience.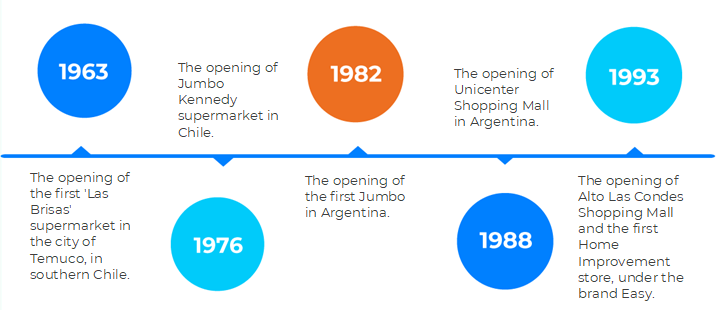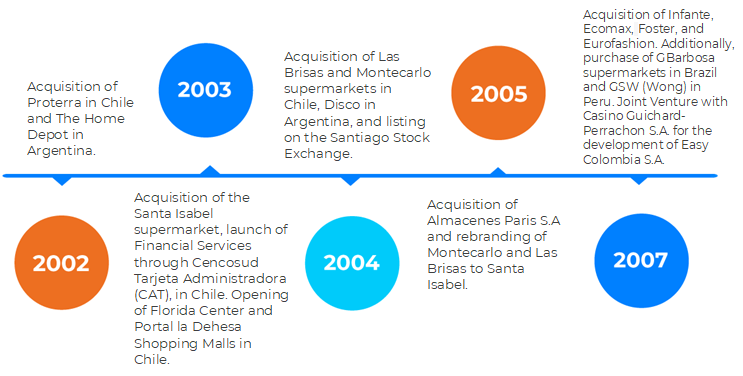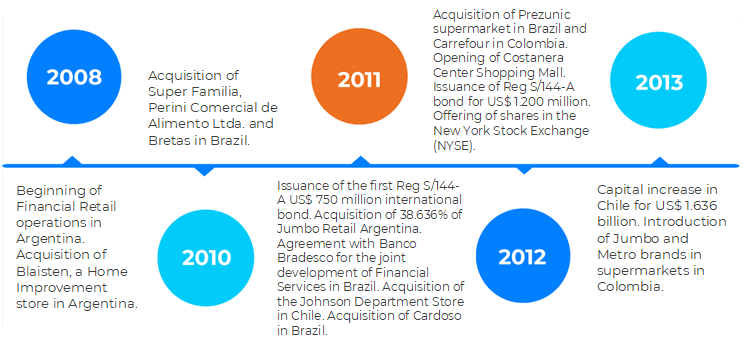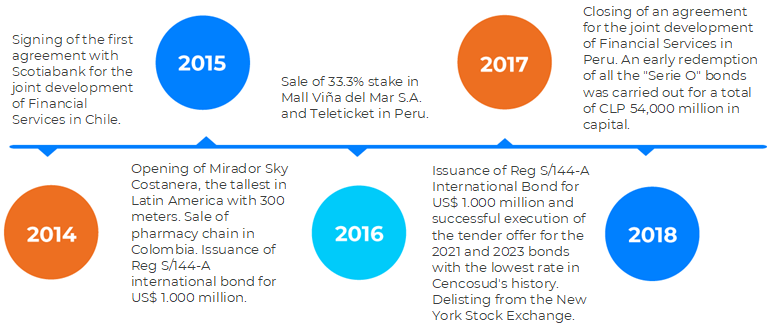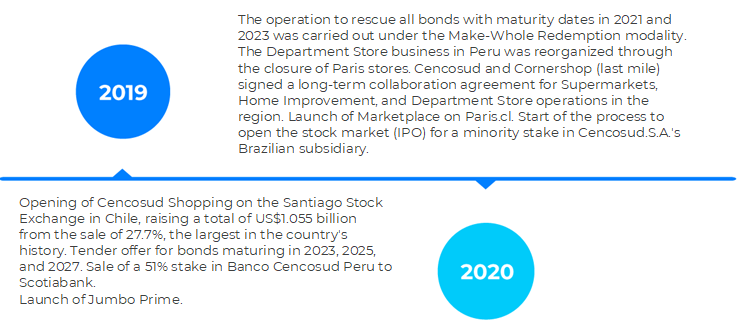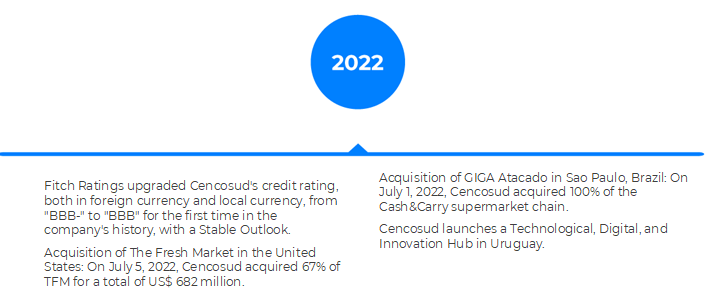 We opened our first supermarket, "Las Brisas", in Temuco, in southern Chile.
Opening of the first Jumbo -Jumbo Kennedy- in Chile.
Opening of the first Jumbo in Argentina.
Opening of the first Shopping Center, Mall Unicenter, in Argentina.
Opening of the Mall Alto Las Condes in Chile.
Opening of the first Home Improvement store under the Easy brand in Chile.
Acquisition of Proterra in Chile and Home Depot in Argentina for the development of the Easy brand.

Acquisition of Santa Isabel supermarkets in Chile.
Launch of Financial Services through Cencosud Administradora de Tarjeta (CAT).
Opening of Florida Center and Portal La Dehesa in Chile.
Acquisition of Las Brisas, Montecarlo, and Disco S.A. (under the Disco and Vea brands).
Opening of the Santiago Stock Exchange, Chile.
Acquisition of Empresas Almacenes Paris S.A.

Change of the Montecarlo and Las Brisas brand to Santa Isabel.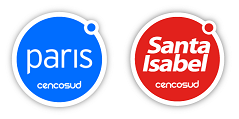 Acquisition of Infante, Economax, Foster, and Eurofashion in Chile.
Acquisition of Gbarbosa in Brazil.
Acquisition of GSW (Wong) in Peru.
JV with Casino Guichard-Perrachon S.A. ("Casino") for the development of Easy Colombia S.A.

Beginning of Financial Retail operations in Argentina.
Acquisition of Blaisten, a Home Improvement store in Argentina.
Acquisition of Super Familia in Fortaleza, Brazil.
Acquisition of Perini Comercial de Alimento Ltda., Brazil.
Acquisition of Bretas, Brazil.
Bond Issue -Reg S 144-A- for US$ 750 million.
Acquisition of 38.636% of Jumbo Retail Argentina.
Agreement with Banco Bradesco for the joint development of Financial Services in Brazil.
Acquisition of Cardoso in Brazil.
Acquisition of Johnson, a chain of Department Stores in Chile.

Acquisition of Prezunic, Brazil.
Opening of the Mall Costanera Center.
Purchase of Carrefour, in Colombia, for the development of Supermarkets.
Bond Issue -Reg S/ 144-A- for US$ 1,200 million.
Offer of shares on the New York Stock Exchange (NYSE).

Capital increase in Chile for US$ 1,636 million.
Introduction of the Jumbo and Metro brands in Colombian Supermarkets.
The Company celebrates 50 years.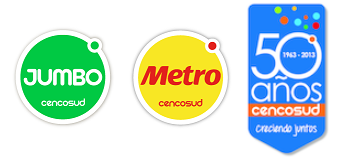 The signing of final contracts with Scotiabank for the joint development of Financial Services in Chile.
Closing of the transaction with Scotiabank in Chile for the development of the Financial Services business.
Opening of the Sky Costanera, the highest viewpoint in Latin America, located in the Costanera Center Complex in Chile.
Sale of expendable assets: pharmacies in Colombia.
Bond issue -Reg S/144-A- for US$1,000 million in two tranches: US$650 million -10-year maturity- and US$350 million -30-year maturity.

Sale of 33.3% stake in Mall Viña del Mar S.A. in Chile, and Teleticket, in Peru.
Fitch and Moody's reaffirmed the investment grade with a stable outlook.
Issuance of International Bond Reg S/144-A for US$ 1,000 million.
Successful execution of the tender offer of the 2021 and 2023 bonds with the lowest rate in the history of Cencosud.
Cencosud terminates the level 3 ADR program of the New York Stock Exchange.
In the results report for the second quarter, Cencosud announced a divestment plan of US$ 1 billion, with an execution term in the next 12 to 18 months.
The signing of final contracts with Scotiabank for the joint development of Financial Services in Peru, where 51% of the banking company's shares are transferred to Scotiabank.
Request for cancellation of the registration of the ADRs, ADS, and ordinary shares before the securities commission of the United States of America, the SEC, which also implies the termination of the reporting obligations before it.
An early redemption of all the "Series O" Bonds is made. The Bonds were redeemed at a value equivalent to their unpaid principal balance, for a total of $54,000,000,000 for the principal.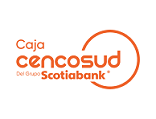 The JV of Cencosud Peru with Scotiabank has been completed.
The opening to the Santiago Stock Exchange of the Shopping Centers division in Chile, Peru, and Colombia was successfully executed, raising US$ 1,055 million from the sale of 27.7% at a price per share of 1,521 CLP with an amount of 472,000,000 shares.
An offer was made to acquire bonds issued in international markets for a total amount of US$900,000,000. On October 10, the referred process was concluded, where a total of US$ 323,572,000 of the Bond due in 2023, US$ 125,654,000 of the Bond due in 2025, and US$ 25,211,000 of the Bond with expiration in 2027.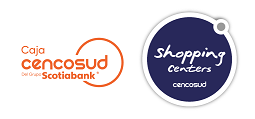 The redemption operation of all the bonds with maturities in the years 2021 and 2023 was carried out. Under the "Make-Whole Redemption" modality at a redemption price of 103.34% and 109.51%, respectively, for a total of $876 million. In addition, interest accrued on these bonds was canceled for a total amount of US$ 5 million.
The Company decided to reorganize the Department Store business in Peru by closing 11 Paris stores. In the case of Chile, Paris absorbed the stores under the Johnson brand. This last measure implies the absorption of some stores under the new "Paris Express" format, which includes the sale exclusively of clothing, footwear, and sports.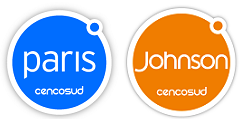 Cencosud and Cornershop signed a long-term collaboration agreement for Supermarket and MdH operations in Chile, Peru, Colombia, and Brazil, allowing Cornershop customers to buy in stores without service charges. In addition, Uber and Uber Eats can access Rincón Jumbo products and prepare meals from supermarkets. The agreement includes, among others, the technological integration that offers the best experience and the disbursement of US$ 10 million for Dark Stores.
IPO process begins in Brazil: The Cencosud Board of Directors approved the initiation of a process for the public offering (IPO) of a minority percentage of the Brazilian subsidiary of Cencosud S.A. The plan seeks to raise approximately US$300 million to strengthen organic growth and the expansion of supermarkets in that country. Banco Itaú BBA, Bank of America, JP Morgan, and Banco Bradesco BBI were contracted for this operation.


The Fitch Ratings agency confirmed Cencosud's risk rating at BBB- and removed it from Rating Watch Negative, changing the outlook to Stable.
In March 2021, Moody's Investors Service confirmed the Company's rating at Baa3 and changed the outlook from negative to Stable.
New "SPID" convenience format: Cencosud launched the new "Spid" convenience store format, which considers three stages: the first, already completed, was its launch in virtual format through Cornershop. In second, the projection of its own app is to be available in the main cities of the five countries where Cencosud operates (it is already implemented in Chile). The third considers physical convenience stores by utilizing existing GLA or land development to implement gray stores and dark stores.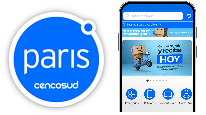 Creation of a new Cencosud Media business unit: Together with the strategic support of Accenture, Cencosud launches Cencosud Media, a new business unit that seeks to generate advertising strategies through a technological platform with advanced analytics and artificial intelligence models, following the trend of major retailers in the United States and Europe. This new business unit was born to strengthen the Company's digital capabilities, in addition to supporting a series of innovative initiatives, such as the alliance with Cornershop and the creation of Jumbo Prime, Spid, Cencommerce, among others. In this opportunity and through the use of "Big Data", which is obtained from the different business units of Cencosud, it will be possible to generate measurable marketing strategies in the various channels of the Digital Ecosystem.

Creation of a new Cencosud Ventures business unit: As part of the digital evolution process, Cencosud creates a business unit oriented to venture capital, called Cencosud Ventures, through which Cencosud will link with Latin American entrepreneurs and startups of scalable technological solutions. The focus of this new unit will be to support technology startups, accelerating the digital evolution that Cencosud is promoting in the fields of E-Commerce, Logistics and Supply Chain, Fintech, and Retail Services.

Cencosud Brasil registered as an Open Stock Company: Cencosud Brasil S.A. having become an Open Stock Company, through its registration with the Comissão de Valores Mobiliários (CVM), in consideration of the expiration of the period of suspension of the process of Public Offering of Shares (IPO) duly informed, it has had to cancel said process of IPO in said country, being prepared to restart it when market conditions warrant it.

New App Santa Isabel, in Chile.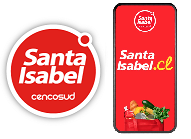 Fitch Ratings upgraded Cencosud's credit rating to 'BBB' from 'BBB-' with a stable Outlook, achieving this Investment Grade notch for the first time in its history.
a
Acquisition of The Fresh Market in the USA: On July 5, 2022, Cencosud entered the United States with the acquisition of 67% of The Fresh Market (TFM), a market with high purchasing power and a leader in innovation and trends in the food industry and technological. In addition, the Company enters a deeper capital market, and part of its balance sheet will be denominated in hard currency (US dollar). The transaction was paid for with cash from Cencosud and 12-month bank debt (US$300 million). Given the consolidation of TFM, Cencosud estimates to add approximately US$600 million to its bank liabilities, added to the new lease liabilities. All of the above would increase Cencosud's gross leverage to approximately 3x.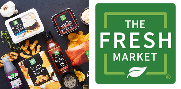 GIGA acquisition in Brazil: On July 1, 2022, Cencosud completed the acquisition of 100% of the GIGA supermarket chain. The chain of 1,300 employees has 10 stores, with an average sales room of 4,500 sqm, and 1 Distribution Center located in São Paulo. With the entry of Cencosud into the largest market in South America -in terms of inhabitants- the Company achieves, at a very competitive price, a company with extensive knowledge and operational efficiency in the Cash&Carry format. After the consolidation, Cencosud Brazil strengthens its position in the Cash&Carry wholesale supermarket format, reaching around 30% of total sales.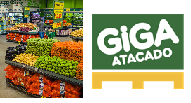 Cencosud launches its new offices #HubCenco: During October, Cencosud launched #HubCenco, new and modern workspaces designed especially for its employees, with high standards of architecture, technology, and avant-garde, which facilitate collaboration and collective intelligence. The Company prioritizes attracting and retaining the best talent, all necessary elements to take Cencosud to the next level, which is part of the strategic pillars of innovation and new trends.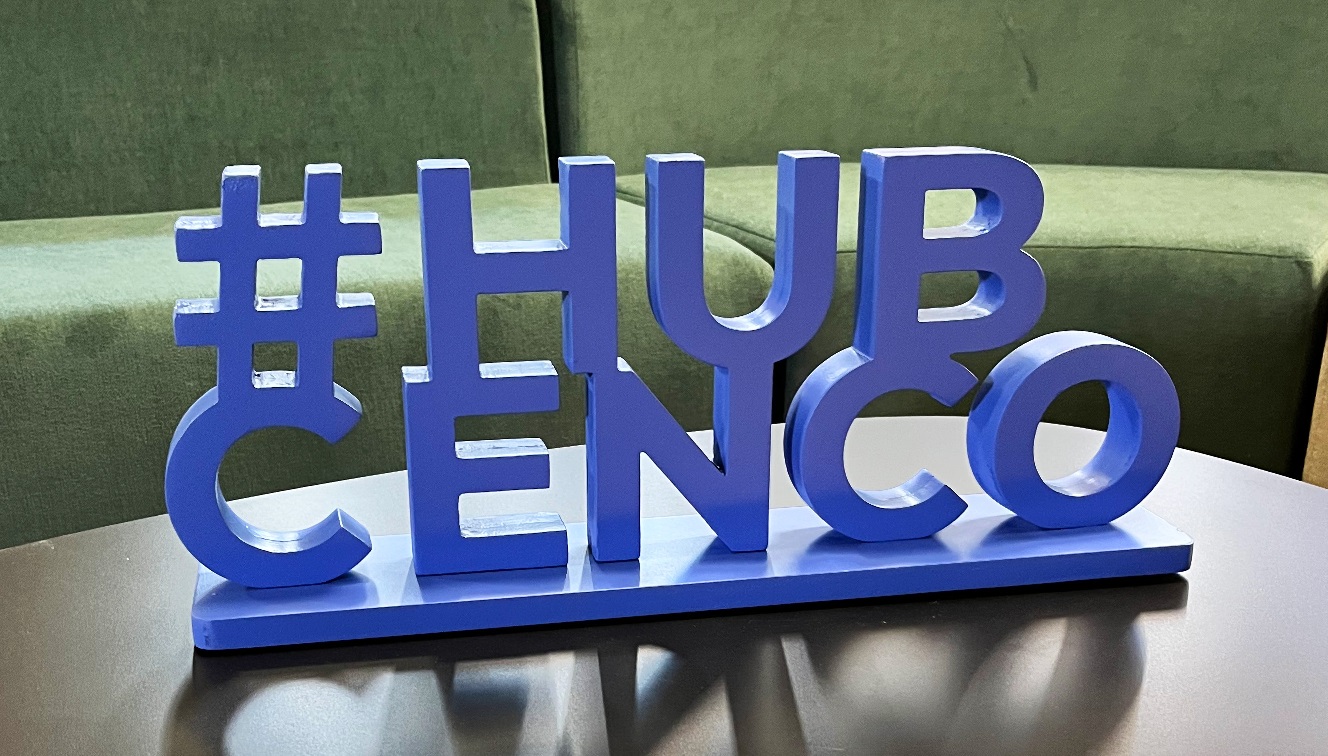 Cencosud creates a Technological, Digital, and Innovation HUB in Uruguay: As part of its business growth and diversification strategy, Cencosud starts its operations in Uruguay to develop and accelerate its digital ecosystem for group companies. From there, it will provide services associated with creating digital products and businesses, such as e-commerce, marketplace, retail media, and advanced analytics, aiming to generate unique customer experiences.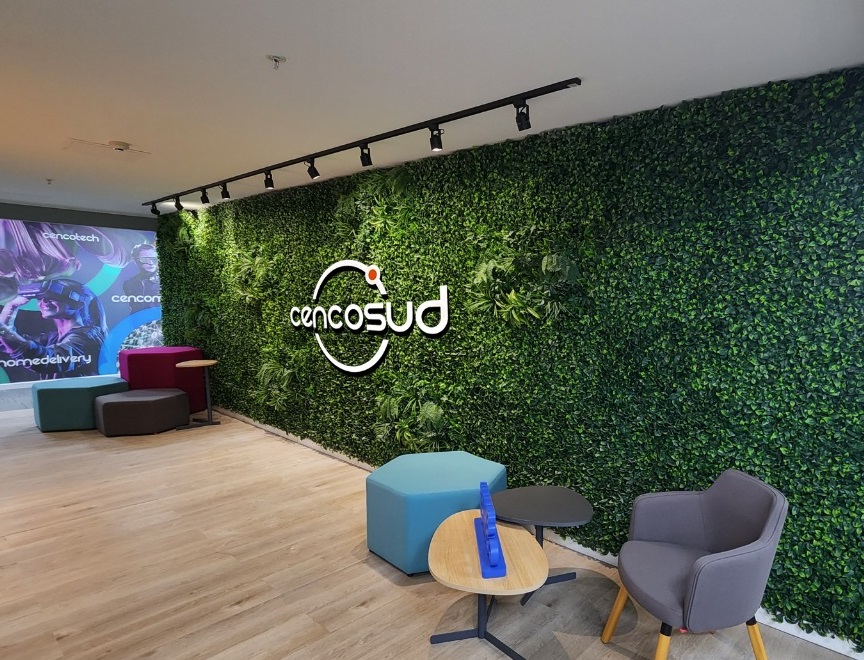 Launch of CencoPay: Cencosud took a step towards consolidating its digital ecosystem with the launch of CencoPay, its digital wallet. This app allows users to centralize their credit, debit, and prepaid cards in one place, enabling secure and convenient transactions directly from their mobile phones.
Did you find this information useful?